PROJECT DATA
Owner:
The Shubert Organization
Type:
Spanish Style
Broadway Theatre
Scope:
Restoration
Features:
Decorative Plaster and Mural Restoration, Lighting Replication, Decorative Painting, Seating, Drapery and Furniture
Cost:
$4,300,000
The John Golden was designed in 1927 as an intimate, artistic theatre as part of a 3-theatre complex. The late 2012 restoration returned the theatre to its lavish Spanish-Moorish theme. Later over-painting was removed to reveal original murals. The palette and detail of the murals were used as reference for restored decorative details and finishes. Lost Moorish detail plaster elements were carefully replicated lighting was restored. Draperies and seating were replicated with custom detailing.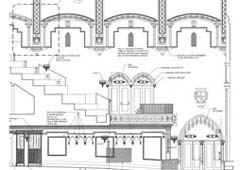 Construction Drawing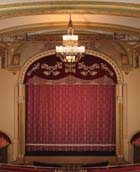 After Restoration