PROJECT DATA
Owner:
The Shubert Organization
Type:
Adam Style
Broadway Theatre
Scope:
Restoration
Features:
Decorative Plaster and Wood Detail Restoration, Terrazzo Floor Recreation, Lighting Restoration, Decorative Painting, Seating, Millwork and Furniture
Cost:
$4,300,000
The Schoenfeld, originally named the Plymouth, was designed in 1917 as one of a pair with the Broadhurst Theatre. This 2013 revival restored the theatre to its original delicate beauty. Restoration was completed, respecting and responding to its original extant Adam Style design, while integrating new details harmonious with the original. New elements for seating, carpet, drapery, and lighting were designed, incorporating motifs existing in the theatre, as well as additional Adamesque details. Responding to paint analysis of the original palette, the subtle application of color was returned in a decorative painting palette highlighting bas-relief plaster with gold and bronze gilt and translucent shades of warm and cool umber. Original stencils were recreated and original chandeliers restored.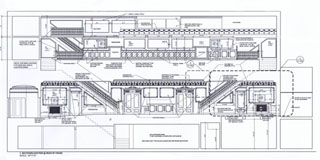 Construction Drawing